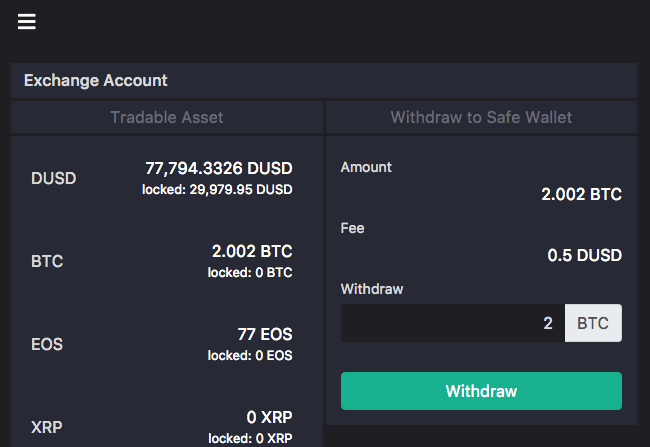 All trading funds are kept in the YOSEMITE Exchange Vault smart contract and all trading operations are processed off-chain for high performance. However, every operation is digitally signed with an Ethereum account (either by the user or by the trading server) to ensure transaction security, immutability, and accuracy.
At any time a user may withdrawal funds from the Exchange Vault contract into hir/her own Ethereum account. These funds will no longer be available for trading (until they are deposited into the vault contract once again). Because withdrawn funds are no longer locked in the Exchange Vault contract, they become fully controlled by the user to be used on the wider Ethereum network like any other crypto token.
To withdrawal funds:
From the menu at top-left corner, click 'Deposit & Withdrawal'.
In the Exchange Account section of the page, click the currency you'd like to withdrawal.
In the expanded menu, type the amount you wish to withdrawal and click "Withdraw".
Next, verify the withdrawal information by clicking "Request Withdrawal"
Like all other user actions you must sign this transaction with your Ethereum account.
All of the withdrawal settlement data is cryptographically verified by the client application and a link to the proof data is provided.
To complete the withdrawal, click the "Confirm Request" button, and sign this confirmation.
Wait for the withdrawal settlement transaction to complete. You can check the status of this transaction on the 3rd party blockchain explorer service Etherscan by clicking the "Pending Ethereum Transaction" link provided. If you see your transaction completed on Etherscan, you can be confident that your transaction has been successfully broadcasted to the Ethereum public blockchain.
Finally, once the withdrawal has completed click "Close". You can now see that your withdrawal has moved from your Exchange Account to your Ethereum Account.
Note: This withdrawal is an on-chain Ethereum transaction which you didn't pay gas for! We call this type of transaction a "delegated" transaction, whereby the user allows the YOSEMITE service to act on their behalf by digitally signing their actions. The end result is that users don't need to pay gas fees for their actions but instead pay fees in dUSD. "Delegated" transactions are used frequently on the YOSEMITE platform in instance where there is a need for both blockchain security and simple user interaction.